Dear The Knot, the wedding industry and weddings in general,
Thank you for your constant emails reminding me that I've been engaged for an exact year and that my wedding is coming up (102 days until wedded bliss) and that I've yet to pick a flower for my arrangements or a design for my cake. Thank you for the countdown you include on the emails, because as if work deadlines weren't enough, the added thrill of feeding over a hundred guests that will a) complain about the food or b) forget what they ate because they'll black out thanks to the open bar really does excite me and does not at all put me on edge (there will be Uber rides on stand-by).
The endless barrage of emails with color palettes, flower arrangements and quizzes don't drive me crazy. I've only changed my wedding theme about half a dozen times. It is now going to be a trendy outdoor wedding, with a mason jar pyramid as our backdrop. The jars will be holding my tears and instead of rice, my family and friends will shower us with little cut-outs of the dollar bill with wings emoji (#byemoney). A baby bobcat will be our ring bearer (And steal the show! Come on! A baby bobcat?!) and we will enjoy light appetizers and cupcakes. Oh, and my sister will serenade us all with a flute rendition of Justin Bieber's Where Are You Now while wearing masks of said singer.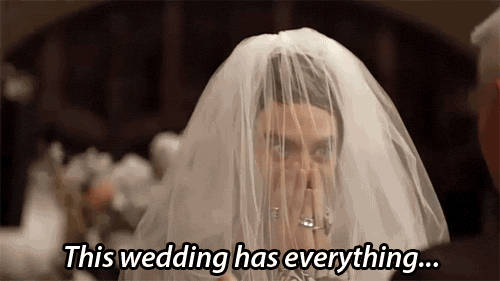 Thank you for your Instagram feed, The Knot. It has inspired me to sell my organs in order to be able to afford the most absolutely extravagant wedding. I realize now that instead of spending thousands of dollars on a dress I'll wear five hours, dead flowers and a glorified Spotify song list I could probably go on an adventure around the world or finish furnishing my new home, but I know that I will "regret it" if I skip out on it.
Thank you for the added drama in my life of bridesmaids, additional budgeting and the stress pimples I get right on the middle of my forehead. I've never looked better.
Thank you for the stress that has caused a drop in weight, allowing me to wear clothes that had been gathering dust in my closet (I am actually thankful for this).
I look forward to unsubscribing to all the newsletters the day after my wedding. Until then, please hand me a glass of wine or as I call it, my night-night juice.
xx